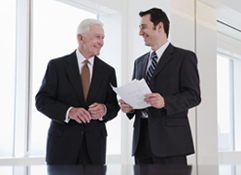 We understand. Crancorp is superior in our highly structured approach to client relationships, developed over thirty years in the investment banking industry. We approach each engagement in a focused yet personalized manner. Crancorp executives strive for a thorough understanding of the client's criteria, investment/acquisition/divestiture parameters and overall market strategies so that we can best represent each client and deliver profitable results. Crancorp appreciates that this is not just a financial decision. During our thorough investigation of a company's culture, markets, goals, values, strengths, vulnerabilities, competitors and areas of potential growth, we strive to find the best match for each of our clients.
Experience matters. We're entrepreneurs ourselves. We understand the intricacies, as well as the care and sensitivity, involved in buying or selling a closely held company in a liquidity transaction that benefits both parties. Crancorp's seasoned professionals have years of experience in mergers, acquisitions, raising capital and seeing the full story within the company, allowing them to make connections with potential partners in ways other investment firms cannot.
You deserve the best. Crancorp's size and congenial style assure you constant and consistent attention while ensuring confidentiality. Your business is handled directly by top-level executives who are highly skilled in leadership and financial practices. This direct attention from Crancorp principles encourages confident transactions between buyers, sellers and capital providers. In addition, our recommendations only include companies with proven track records and similar goals and values to your own.

We are committed to relationships. Our repeat business is indicative of our commitment to long-term relationships with our clients, national banks, law firms, national accounting firms and other investment bankers. The majority of Crancorp's compensation is tied to the successful completion of our clients' transactions, creating objectivity on our part and confidence on yours. We value your business just as you will appreciate our trustworthiness and confidentiality.
Ask. Listen. Execute.